PVC Vertical Blinds Home Office Setup: Makati Project
Jessica Hernandez
One of the many lessons we learned after two years of being restricted by a pandemic is the discovery of new work models. Unlike the usual routine of traveling or commuting to work, we can now do office tasks within the four corners of our own homes. One of the crucial things that employers and hirees currently discuss is the work setup, may it be full onsite, online or a hybrid work method. These established, join us as we unpack the installation of vertical blinds for the home office setup of our Makati client. 
Vertical blinds are one of the most common yet still the most convenient home product for whatever purpose a customer intends to use it. With its adjustable vertical panels, one could go from full to moderate or less coverage for their interior. These items are also proven to be most durable and easy to maintain. Its cost effectiveness could not be put into question because whether it's made from fabric or PVC, these blinds could provide the security and flexible light control that its customers need.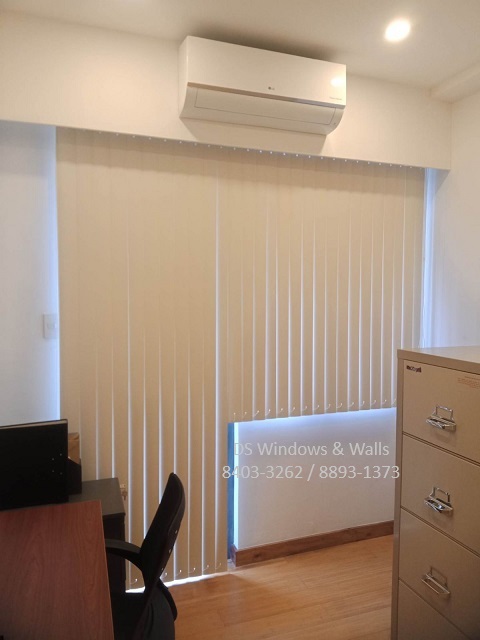 Let's discuss why vertical blinds are truly conducive for a home office setup. The first point for this is the easy light adjustment feature. Some consumers, when working with computers, would prefer full coverage from outside light. Aside from being able to properly focus on their screens, a full coverage would also mean less distractions from the view outside. These users would just need to have the vertical panels overlap by controlling the blinds' mechanism, which is either a wand or a chain. However, if the client is more comfortable with natural light, they can simply have the louvers stacked on the side. This would reduce chances of eye strain, especially when they are in front of computer screens for the whole day. Such setup would also allow them a view of the outside when they need to rest or take a break from working.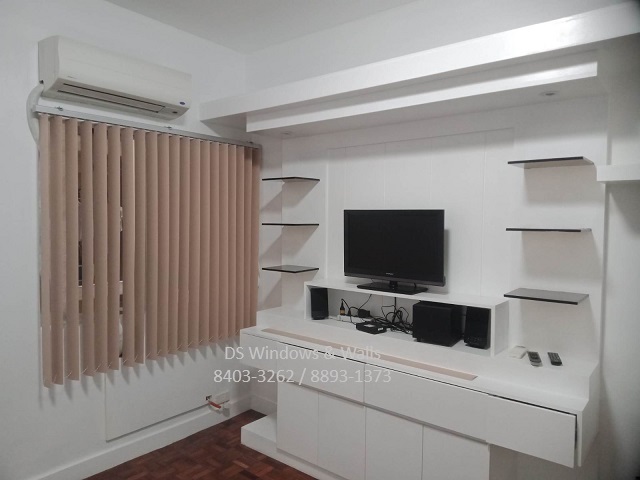 The next point is a mix of vertical blinds' convenience and aesthetics. A customer's purchase would be productive if they can really get their money's worth off a product. This stands true for vertical blinds because they are convenient to use, easy to clean and adds aesthetic to a room. These elements are important when one is working from home because a good and pleasant environment are ingredients to actually getting the work done and delivering good results for the company.
Going over our installation, the first comment that one can give is how the colored blinds matched well with the white-themed room. Any color of our PVC blinds would do because the white walls were easy to match. Nevertheless, our client made an impressive choice with the beige shades and maintained the neatness and elegance of their home office setup. With this kind of view and work from home environment, our client would surely produce quality outputs and enjoy the modern home setup that he can customize anytime.
For more information on our PVC vertical blinds visit our showroom at 4th Level Waltermart Makati, 3rd Level Robinsons Metro East, or 2nd Level Pacific Mall. Call us at (02) 8403-3262, (02) 8893-1373, or 0916-311-3909. Email us at inquiry@dswindows.com.