PVC Vertical Blinds Suitable for Residential and Commertial Use : Pasig Installation
Jessica Hernandez
If you are looking for durable and heavy-duty vertical blinds that will also efficiently accommodate larger windows, it's time to look into PVC vertical blinds as installed for our Pasig client in today's feature. These vertical blinds evidently suit and complement both residential and commercial interiors of our client, giving it clean sophisticated looks and making the rooms more convenient for its respective use. 
Vertical blinds are composed of upright slats or louvers connected to a top channel and can be adjusted accordingly. These PVC blinds do not require bottom weights and chains which may be of inconvenience at times because they can get tangled. Vertical blinds also come at a large variety of sizes and designs that clients can customize in line with their preferred interior styles. Because of its vertical structure, it is relatively easy to clean and maintain.
Speaking of maintenance, the vertical blind's smooth surface alone makes it less prone to dust and dirt. It has no elevations or crest for dust or mucks to settle into. Any smudges or stains can be easily wiped or dusted off. Regular cleaning up can preserve and extend the life of such blinds and reduce high turnovers for users which makes it cost-efficient.
Additionally, PVC vertical blinds for homes or offices are resistant to both moisture and flame. Its louvers have protective layers which makes it dirtproof and flame-resistant. It can withstand moisture that if not managed well, can soon destroy the material of these vertical blinds. These qualities significantly add up to the benefits of having vertical blinds for whatever purpose a client deems necessary.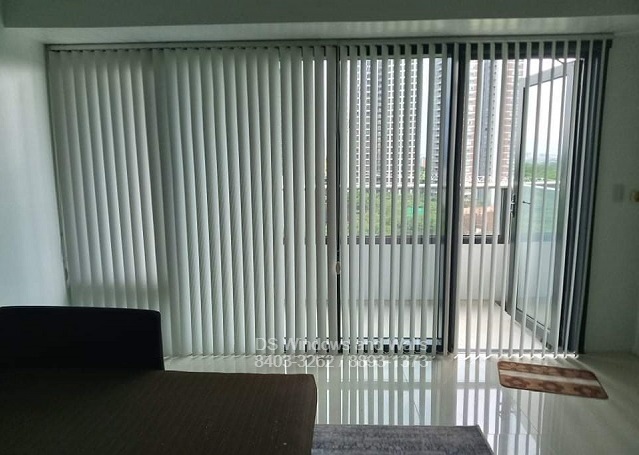 If we are to review our Pasig installation of these vertical blinds, the first thing to notice is how convenient they are in heavy-traffic areas like terrace doors or windows. It is also noticeable how these blinds offer trouble-free light adjustment depending on what kind of weather or area a client is situated in. If a client is in an urban place like in the picture, vertical blinds can be relied on to let more fresh air into the room. This can be of great importance for clients since outside the rooms are busy, hustle-and-bustle streets and having such access to fresh air is a need.
PVC vertical blinds for offices, on the other hand, provide both security and the convenience of easier light accumulation, for the same reasons discussed above. Security is important because offices are places for transactions and even confidential matters. The next benefit of blinds as being low maintenance helps in taking less time cleaning it and avoid causing inconvenience to those within an office.
For more information on our PVC vertical blinds call us at (02) 8403-3262, (02) 8893-1373, or 0916-311-3909.