Vinyl Folding Door as Divider to your Second Floor Home
Jessica Hernandez
The very essence of why our homes are considered a basic need is that it should be a place of shelter, protection, peace, privacy and security. Overtime, we have seen how houses have improved and how they were innovated. Modern doors and windows are the products of such innovations. In today's blog, we shall venture how our homes can be further improved through installing a vinyl folding door as a divider in a house's second floor.
Vinyl folding doors are flexible dividers which can be adjusted because they consist of panels or sections. These are also often referred to as bi-fold doors or concertina doors because of its physical similarity to the mentioned musical instrument. These can usually be seen in large rooms which can be divided in order for parties to conduct simultaneous activities. In this article, however, we shall see folding doors from a different angle. We shall see how it contributes to the clients second floor home. 
The benefits of acquiring these folding doors are characterized by better security, convenience in use and ornamental advantages. Such provides better security because it can have more than one locking system that other types of folding doors do not have. On another note, it is very convenient to use because it does not take up too much space whether folded or not. Space can be maximized whether the folding doors are stacked on one side or spread out for a certain purpose. Its convenience lies in the flexibility of panels and its space saving feature. Because these doors are available in a variety of sizes, colors and styles, it is aesthetically pleasing and can certainly match with different types of interiors.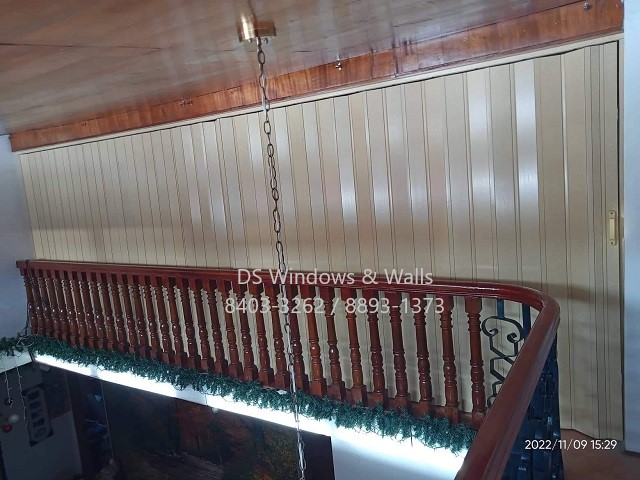 Continuing with that thought, our folding door installation for today's client is clearly well-matched. The faux-wood texture and style of the vinyl bi-fold door did not look out of place with the client's wood flooring and staircase. Aside from providing division for different parts of the house, the folding door actually looked like a natural part of it. This just proves that the product and its variations can adapt well to any home environment. 
Because the client's second floor is structured as having windows, the vinyl folding door also served as a shield from sunlight. This is helpful for protecting the room spacers on the other side of the door and can even help project appliances or furniture from damage.
On this helpful note, you can message us for your own vinyl folding doors! Visit us in any of our mall stores or call us at 8403-3262, 8893-1373 or 0916-311-3909. Email us at inquiry@dswindows.com