French Folding Door as Living and Dining Room Divider
Jericho Libardo
Our french doors can serve as a decor and functional divider for any rooms. In this blog, we present a customer that used our french folding door as a divider for their living and dining room area. Unlike our regular folding door, our french folding doors can have customizable sections. It can be different types of glass design, or it can also be louver or embossed. It can also be customized in such a way that the top half of it is glass and the bottom half of it is embossed.
Our client opted for all glass french folding door design to separate their two rooms. During dinner times, they can slide the folding door for added privacy. It can also be used to enclose the room for maximum efficiency of the air conditioning unit while having their meals. Whenever they have visitors in the living room, they can also close the folding door to control the lighting coming from their dining rooms.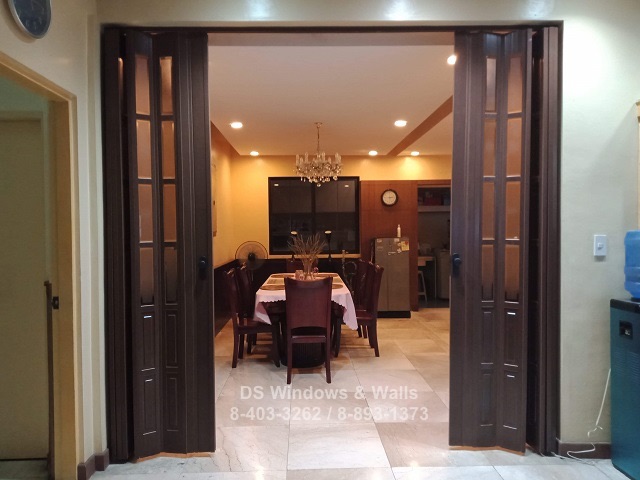 We have other types of folding doors namely spectrum, deluxe, and regular types but our french folding doors are the most decorative. This is because unlike french doors, other types doesn't offer any other customizable options such as glass, louver, or embossed types. It's just plain design and mostly used for its functional aspect. All folding doors are hanging from its railings so during measurement we make sure that it has about 0.25 to 0.5 inches clearance. It also have a default lock and keys unlike the other types. For spectrum, deluxe, and regular types you need to order a separate lock and keys for added security.
Our french folding doors comes in many colors. Among them are cedar, ash, wengue, and narra. There are about 8 types of glass e.g. clear, bevelled clear, platinum glass, starlight glass. For the solid part you can choose between louver and embossed.
For more information on our french folding doors you may call us at (02) 8403-3262, (02) 8893-1373, (02) 8668-9668 or email us at inquiry@dswindows.com. You may also visit our stores in 4th level Waltermart Makati, 3rd level Robinsons Metro East, and 2nd level Pacific Mall.