Room Dividers PVC Accordion Doors for Schools and Universities
Lyn
Reception halls, also known as assembly halls or function halls are rooms or building for hosting small or big events usually for social events. In schools or universities, this is a hall usually used for hosting different school events or activities. Having said this, it is important that this space can be configured in such a way that the space inside the hall can be further divided into smaller rooms so that it can hold various kinds of classes or activities in short notice.
One of the most popular ways of flexibly do this is to install PVC accordion doors that can serve as room dividers or partition. These type of accordion doors are easy to operate and glides smoothly during opening or closing it. In fact this is one of the best advantage of PVC accordion compared to Plywood types i.e. it's made of durable plastics that are light weight so it is a breeze to operate. Plywood types of accordion doors are heavy, tends to be more expensive and takes a lot of time to complete and install since it's usually custom-made by carpenters.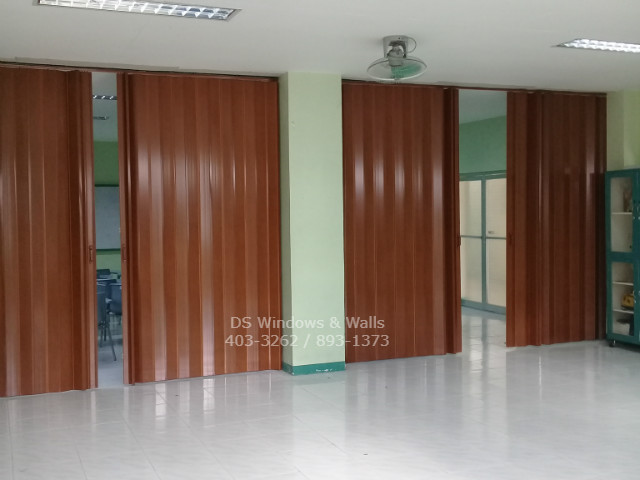 Another advantage of our PVC accordion doors are it is available in several colors and that its finish is a lot natural and smoother than plywood type that's usually painted. The available colors have wood patterns that looks a lot like real wood which is not possible using ordinary paint.
Our customer from a popular school in Makati ordered PVC accordion that can serve as a divider or partition in their newly built hall to configure the space to hold smaller classes or activities when needed.  They specifically chose Deluxe Teak color which is a safe color since it can match any type of color theme of the room.  They were pleased to know that it would just take about 4-5 working days for their order to arrive and be installed since they have a very tight schedule requirement of completion.
DS Windows and Walls provides not only window treatment but also PVC accordion doors, wallpapers, and carpeting. For more information, please contact us at (02) 403-3262, (02) 893-1373, or (02) 668-9668. You may also email us at inquiry@dswindows.com.
For Batangas, Cavite, Laguna area you may also call Patrick Villapando (Globe) 0917-583-0214 or (Sun) 0922-592-6111 or 0908-989-4676.